Women can orgasm in a dozen ways!
That's right - 12 ways for her to come!
Although, arguably, it is more difficult for a woman to climax (the female body is a complicated thing), it seems that women can experience more types of orgasms than men. A lot more. According to Carlen Costa, a sexologist based in Canada, women can experience a staggering 12 types of orgasm. Yep, it's no longer just about the g-spot and clitoris. It's U-spot and A-spot and 101-Dalmation spots too. Okay, not really the last one. Here are the 12 types of female orgasm identified by Costa:
The G-Spot
Some say it exists, others maintain it's a myth. However, apparently 30% of women report being able to climax from this erogenous area alone. The Grafenberg spot (named for German gynaecologist Ernst Grafenberg) is reportedly located 5 – 8 cm up the front vaginal wall, and if massaged can result in powerful orgasms and potentially female squirting. Some scientists say the G-Spot is an extension of the clitoris, which is why some women are able to climax from intercourse stimulation.
The clitoris
This little love button has 8000 sensory nerve endings. To put this in perspective, a man's penis only has 4000. The clitoris can also affect 15 000 other nerve endings in a woman's pelvic area – making it the go-to orgasm method for most women.
The Nipple
Yes, apparently this is possible. A report by The Science of Relationships showed that stimulation of the nipple activated the brain's genital sensory cortex, which is also activated when the clitoris, vagina and cervix are stimulated. So sucking, flicking and massaging the nipple (gently – because it is sensitive) can result in fireworks – especially when combined with other touchpoints.
The Lips
Here, Costa is talking about kissing – the mouth of your partner. Apparently, a woman's lips are packed with nerve endings and have the ability to be aroused. Costa recommends kissing, biting, sucking, tongue rolling and teasing should be a mandatory part of foreplay, and with enough focus, can result in climax. The Kama Sutra also states that passionate kissing can result in orgasm – and the roof of your mouth is considered to be a highly erogenous zone.
The Multiple Orgasm
Comes in two forms: sequential (one after the other with a break in between) and serial (one right after the other). This can be difficult to achieve, but Costa says that practice makes perfect.
"I recommend revelling in the rushing endorphins after one orgasm and then reapplying a building pressure to that same spot, whether it be your clitoris that is already erect, your anus, or the walls of your vagina." – Carlen Costa
The Anal Orgasm
You either love it or hate it. However, there are plenty of women who enjoy the feeling of anal play (as do many men). If you go slow and use lots of lube, the sensations can be, well, sensational.
The U-Spot orgasm
Yes, apparently the urethra (your pee hole) can give a woman great pleasure. According to Lou Paget, the urethra is surrounded on three sides by the clitoris. When the U-spot is stimulated, the surrounding erectile tissue becomes swollen, causing the Skene's Glands to produce prostatic fluid – the stuff of squirting dreams.
The A-Spot orgasm
Known scientifically as the anterior fornix, this is your front vaginal wall which, when massaged, can indirectly stimulate the clitoris and G-Spot. Apparently, it can be difficult to find and is best explored when you're super aroused and relaxed.
The Cervical Orgasm
Ah! So it's not just for pap smears and childbirth! Yep, apparently this sensitive area can also cause a woman to experience powerful orgasms. Who knew! Your cervix is known as the deep-spot orgasm and shares the same nerves as your anus, which is obviously why some women report it to feel similar to anal sex. All women's bodies are different though – for some stimulation of this area may be pleasurable, but for others it may be painful.
The Zone Orgasm
This is when you experience an orgasm from stimulation of an area not considered erotic. Here, we're talking thigh, neck or even belly button. We haven't ever heard of anyone experiencing this type of orgasm, but hey, anything is possible.
The Blended Orgasm
Our favourite kind! This is when a variety of erotic zones are stimulated simultaneously. Rub your clit while your partner slides into you and sucks your nipples. Boom.
The Fantasy / Brain Orgasm
So apparently, the brain is the biggest sex organ of them all. Which makes total sense. Women generally have to feel sexy and sexual to be in the mental space to climax. This also explains why some women are able to orgasm in their sleep. Costa asserts that you can experience orgasms with just thoughts. No touching required.
How many of these types of orgasms have you experienced? We have a range of products that can help with g-spot, clitoral, anal, nipple and even fantasy orgasms.
Our recommendations for fantastic orgasms:
Enhance female sensitivity with this delicious gel
While the primary ingredient of GoGirl sounds complex (L-Arginine), it's so quick and easy to use that you won't remember how you lived without it. The effects are subtle, smooth and strong – the perfect combo for exhilarating sex. Free of scent and colour, this spray simply blends in – there's no need to wash it off and your partner won't even know that you've enlisted a little help. Apply 5 – 10 minutes before lovemaking and enjoy the steady climb to an incredible climax.
The Harmony Wonderlust Rabbit Vibrator
The Wonderlust Harmony rabbit vibrator offers unforgettable dual pleasure that targets the G-spot as well as the clitoris. It has a hooded stimulator that surrounds the clitoris for complete pleasure that makes contact with every sweet spot. This extension is firm but flexible, allowing you to position it perfectly for personalised stimulation that's suited to your own body. It boasts PowerBullet vibrations that are strong, deep and intense. It is water resistant for adventurous pleasure seekers and the velvety soft silicone finish is a luxurious touch. This toy has a light-up silicone button that allows you to switch up intensity in the heat of the moment without interruption and 20 functions allow you to play at your own pace. This rabbit vibrator is rechargeable and has incremental speed control as well as Soft Touch silicone that feels incredible against your skin.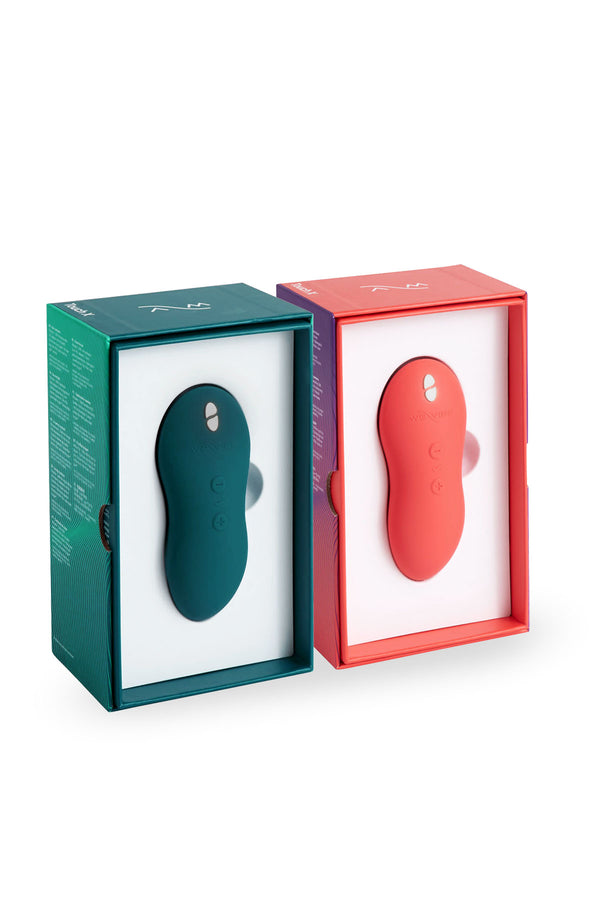 We-Vibe Touch X 
With a soft, sculpted tip the We-Vibe Touch mini clitoral vibrator is designed for precise pleasure. The curvy sculpted form measures 1.8 inches x 3.9 inches and fits in your hand for perfect control. The USB rechargeable design means that you can play for longer, and also makes this vibe great for on-the-go pleasure. This toy has a single button that controls 8 powerful vibrations. Choose from Low to High, as well as Tease, Wave, Pulse, Cha-Cha and more. This silicone vibe is powerful but discreet and the quiet motor makes it the ideal toy for travel. The Touch is waterproof, and the clitoral stimulator targets your sweet spot for incredible vibrating pleasure.
The Bootie Anal Plug
The Bootie Anal plug is perfect for anal enthusiasts who love a satisfying shape. The silicone is firm but flexible, for the perfect balance of pressure and movement when and where you need it. The tip of the Boosty is the smallest, allowing for easier insertion. This is followed by a second bump as well as a very pronounced third curve that targets your internal hot spots with precision. This plug features a smooth, silky finish that makes it a firm favourite with Fun Factory fans. The curved base is designed for comfortable prolonged play (and delivers a little extra stimulation to your external sensitive areas, too – bonus!). The Boosty is easily inserted with the addition of a little water-based lube.
These nipple clamps are coated for comfort and the tension adjustments give you complete control. The chain is nickel free and measures 33cm for creative play. If you're feeling extra mischievous, this lightweight clamp set can be used on any sensitive part of your body to maximise pleasure. This set is perfect for vamping up visual appeal during play. He'll love the nod to bondage – and the fact that he's about to bed his ultimate bad girl.