The Good Folks Deserve Quality
Real Quality, Real People
Do you remember those days back in 2003, if you wanted to explore sexual frontiers, you'd have to plan a visit to an old-school, black-windowed sex shop? Nobody liked those adult stores, filled with horrid, cheap products and an air of sleaze. In some adult shops, they even offered cubicles in which people could watch porn. For most self-respecting couples, they want a safe and positive environment to discuss, explore and learn. The last thing they need is to visit some sleazy-ball store. We decided to up the game. South Africa deserved better.
"That is why we started Matilda's.
Our people deserved better."

We revolutionised SA's intimate shopping. Our people in South Africa could finally shop for the intimate products that they needed. They could shop for any intimate product to suit their personal needs: safely, securely and discreetly. In 2005, our online boutique for intimate shoppers was finally ready, and the "adult shop" was replaced with something beautiful. Matilda's was born. This is our story. 
The Matilda's Story
The Beginning...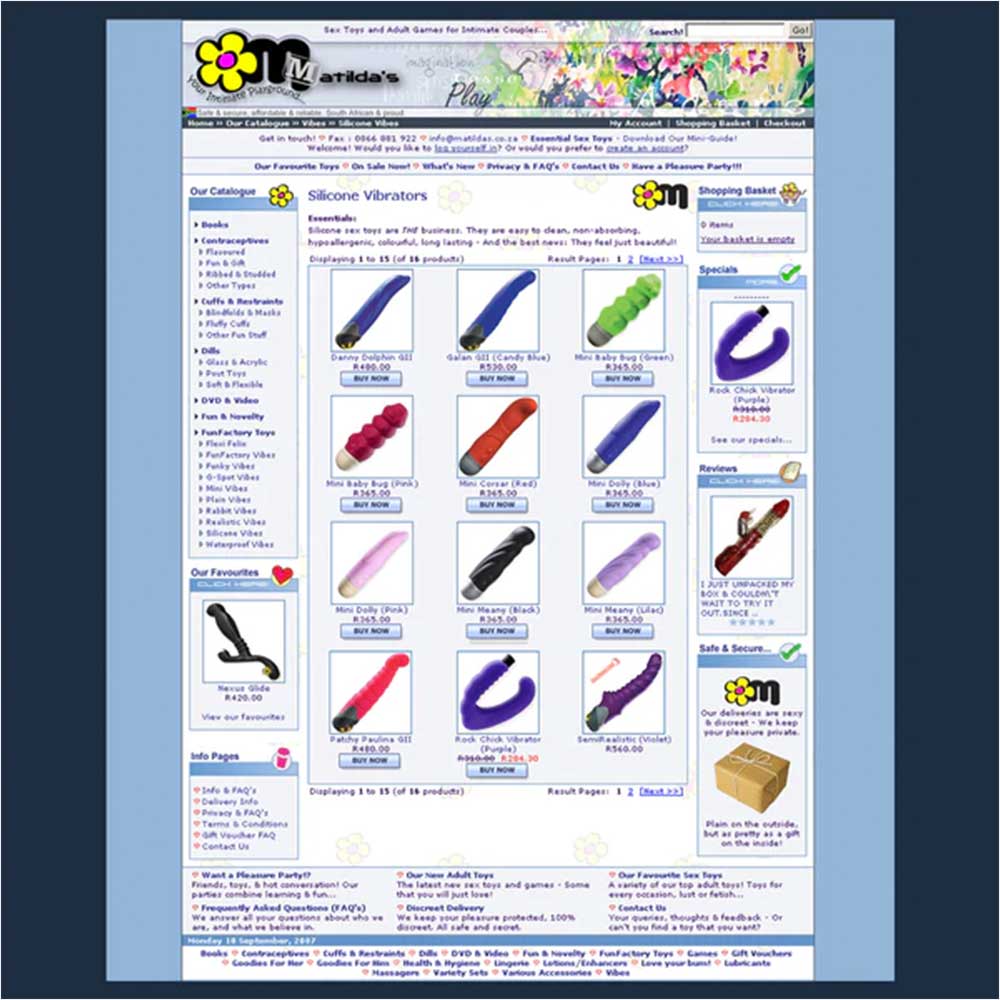 In the beginning...
What started as a dinner conversation in 2003, became real in 2005 when we officially started our online store. It was state-of-the-art back then! The most important thing for our customers was that 1)  it was safe and secure 2) it looked refreshing and different from those ugly adult stores in South Africa. We wanted to offer better than that!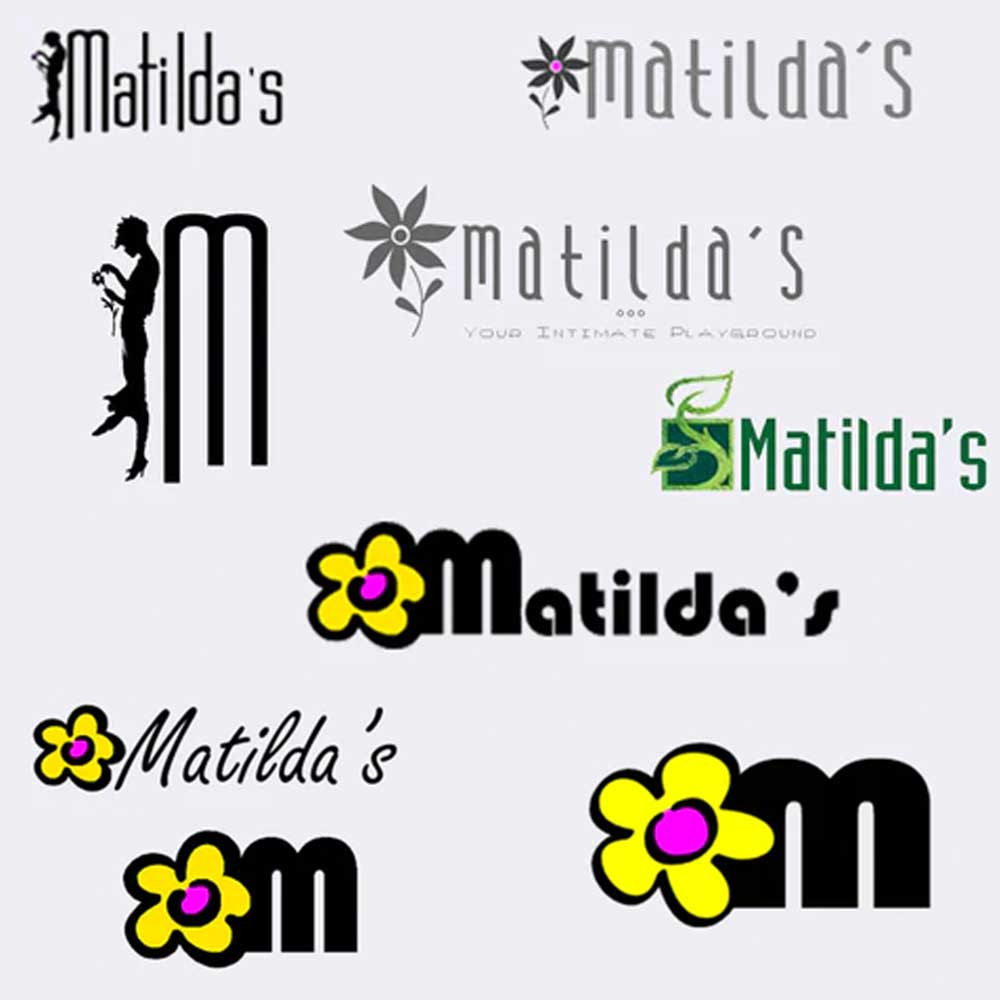 Old Logo Ideas... Wow!
Gosh, look at our oldest logo ideas! We've evolved our logo over time. We always wanted it to feel fresh and different too. Look at some of our first logo ideas! Yes, it's come a long way!
Nature is Playful
This was our logo for a fair while. The flower was a simple symbol that was natural and playful. We loved it for that. Nothing "adult & sexy" about it. Just pure, simple and true. Nature does it best…
New Showroom
And what a year it was! We opened our beautiful new showroom in Umhlanga Rocks, Durban, in early 2019.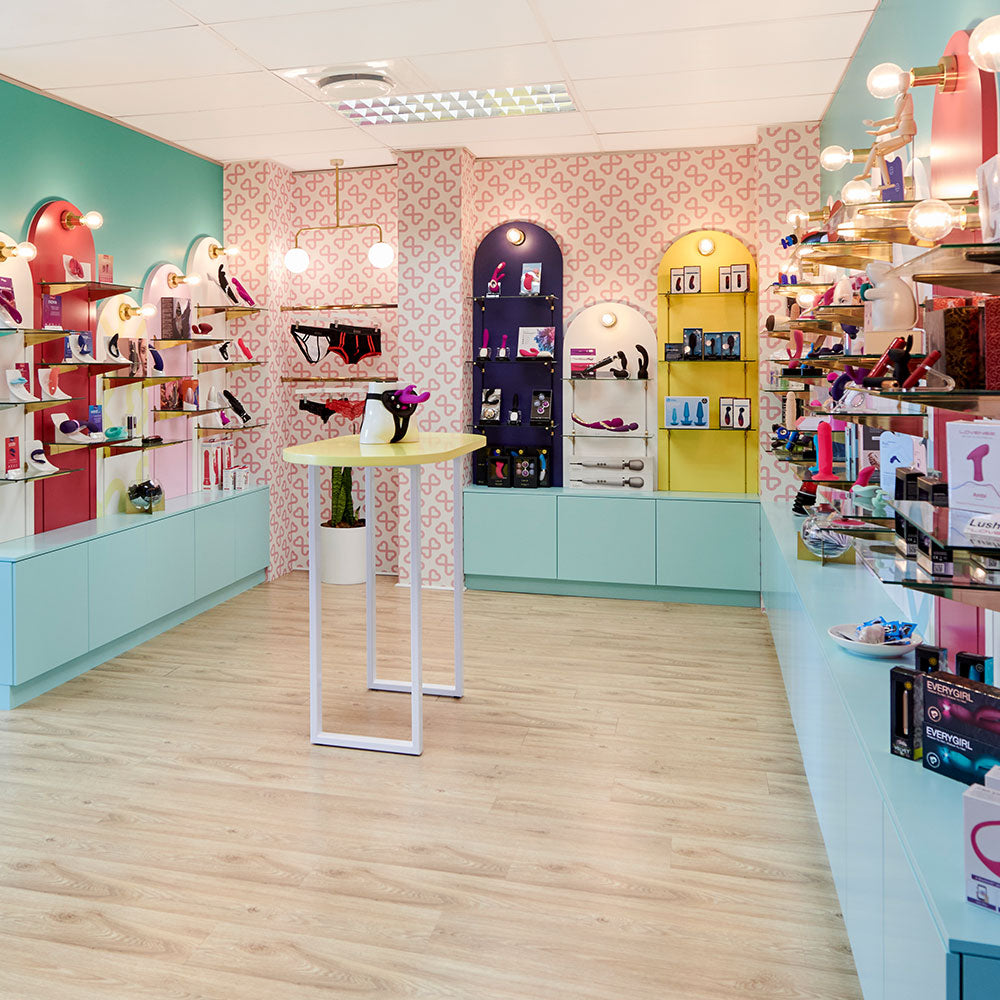 Lockdown Sex & Covid Time...
Covid was a tough time for everyone. We had massive shipping delays and difficulties. Online shopping increased massively (for sex toys and sexy lingerie) due to people having more alone-time, and time at home. Our team worked tirelessly to support our customer orders.
Meet the Team
That makes the magic
People often ask us what it's like working for an online sex toy shop. Some people think we spend our days testing toys... Bless. Nope. Our days are likely much like yours! We're here to look after customers. We're a service company. That's the real magic. We're always processing orders, updating information, working out which products will best suit our customers, counting stock, processing orders, making sure the couriers get the boxes they need, dealing with customer queries, and making sure the website is always working as it should.
It can get pretty intense, but we are lucky in that we're a good, small team. We care for each other and our customers. We share big ideas and remind each other to eat lunch... It's a happy place, and we feel fortunate to work here. Here's a little more about our team:
Simple Beginnings
Things we didn't expect
The Beginning Bit
We started Matilda's as an after-work project. It was a labour of love from the very beginning. It was tough stuff, back in the day - packing orders before work, after work and all too often, working through the night. Importing stock, basic accounting, dealing with customers. It was indeed a labour of love.
Throwing Away products
Sometimes we'd open a product for a photoshoot, but the toxic odour of plastic would overtake us. Awful. Back then, quality was simply terrible. Many of the items that we ordered would need to be destroyed (responsibly) and discarded because we simply couldn't sell them.
Only some brands (like Fun Factory) used quality material, so we started favouring them. The all-too-common, cheaper products were often made from plastic or "jelly" compounds and smelled like toxic, melting plastic.
Taking Over 6000 Photos
We took photos of every. single. product. Back then, manufacturers didn't have product photos. They only had images of the packaging, which was essentially useless. We wanted our customers to choose products in a better way, and so we did it the long way, and took photos of every product. We weren't photographers, so our first photos needed to be Photoshopped to hell and back before they were acceptable.
So. Much. Advertising.
We were the first adult brand to take full-page adverts in magazines like Cosmo, Men's Health and Women's Health.
Working at an Online Adult Shop
What it's about...
The Good
We get to change lives. We get to bring people quality and respect. We help people and bring dignity to a topic of conversation that was previously limited to smut.
Recently we submitted an article to a magazine publication, showcasing the virtues of some intimate products for couples. It was rewarding to receive feedback and emails shortly afterward, from couples who had benefited from our efforts. We care for our people, and it's an honour to offer that care to our community.
The Bad
Sometimes, on rare occasions, we get people calling in to ask us about sex. The un-cool kinda people who ask "What's your favourite toy??" or "Can you send me a picture of someone using the toy?" etc. Sometimes we get to see that kind of unawareness and ignorance on full display. But it's ok... We don't entertain nonsense like that. But it does happen occasionally!
The Ugly
The most hideous time in our existence is probably when you're trying to write a useful, authentic description for the millionth cock-ring, or vibrating bullet, etc. That gets SO tough!
Our day to day office life...
The thing that makes us most excited? When people call in to tell us we've made them happy. That we helped them explore, share and connect on a deeper level with their partner. See, That's actually why we're here. We provide quality products to our customers, so that they can do all the fun stuff. We're human. (We blush too!) And, just like in any office, we keep our sex lives to ourselves.
Conversations are about bircher muesli, running, cake, lunch, yoga, smoothies, food, nutrition, Maslow's hierarchy, meditation and yoga. Sometimes when things get animated, a dildo will be waved around for emphasis. (Seriously though, they make for great table decor.)
We have a lot of fun in our team (meet them here!). And we deal with normal business stuff: marketing, advertising, admin, banking, processing, warehousing, customer service, website maintenance and more. It's almost like a normal job. Well, except for that bright pink dildo on Martin's desk!