What are the different
Types of Dildos?
Which Dildo Should I Buy? There are many different types of dildos on the market. Realistic ones, plastic, glass, rubber and latex ones! Colourful ones too! But what's the difference between a Dildo and a Vibrator, and why choose one over the other? And should you choose a glass or rubber dildo? A single or double? This guide will reveal all...
Silicone Dildos
Beautiful & Body-Safe Dildos
Silicone is a popular material for dildos because it is flexible, non-porous, and easy to clean. It can also be moulded into a variety of shapes, textures, and colours, making it a versatile option for different preferences. Silicone is a great choice for vaginal and anal play.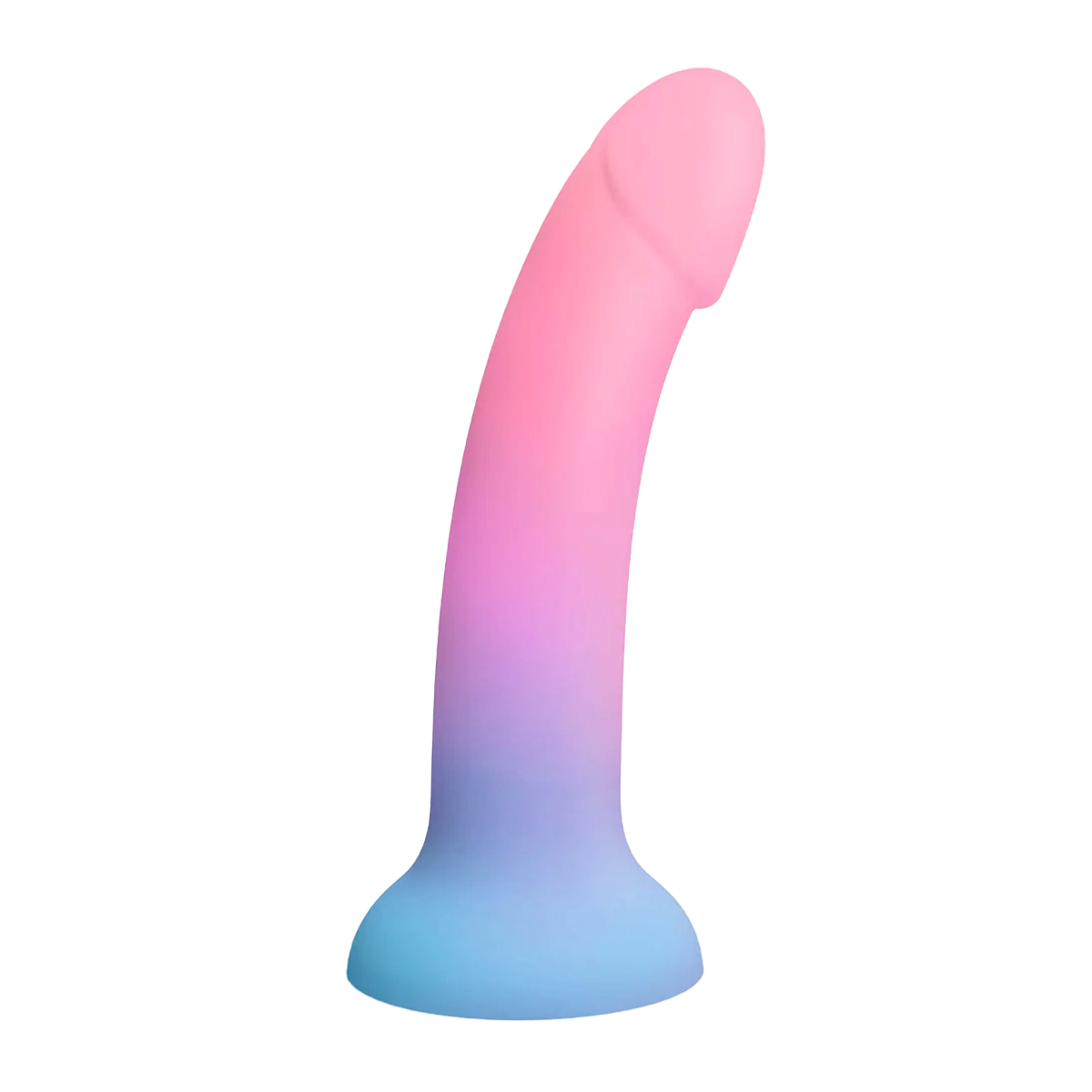 These sex toys are easy to clean. Wash them with warm water and mild soap or soak in boiling water.
How to play with your Dildo
We recommend that you do not use silicone-based Lubricant with silicone toys because the lube may affect the surface of the toy over time. The best lubricant to use with silicone-made sex toys is a water-based lubricant.
Pro's & Benefits
Silicone dildos are:
Flexible yet firm
Easy to clean, and more hygenic
Non absorbent & therefore body-safe
Top quality material
Cons
They can be tad more expensive than other materials, because silicone is higher quality.
As a general rule, it's best not to use silicone lubricant with your silicone toy.
Double Dildos
Feel the Fullness
Double dildos are rather underrated love toys, which can be used to penetrate two different people at the same time. DDs are longer than traditional dildos and are made out of a range of materials – from glass to silicone.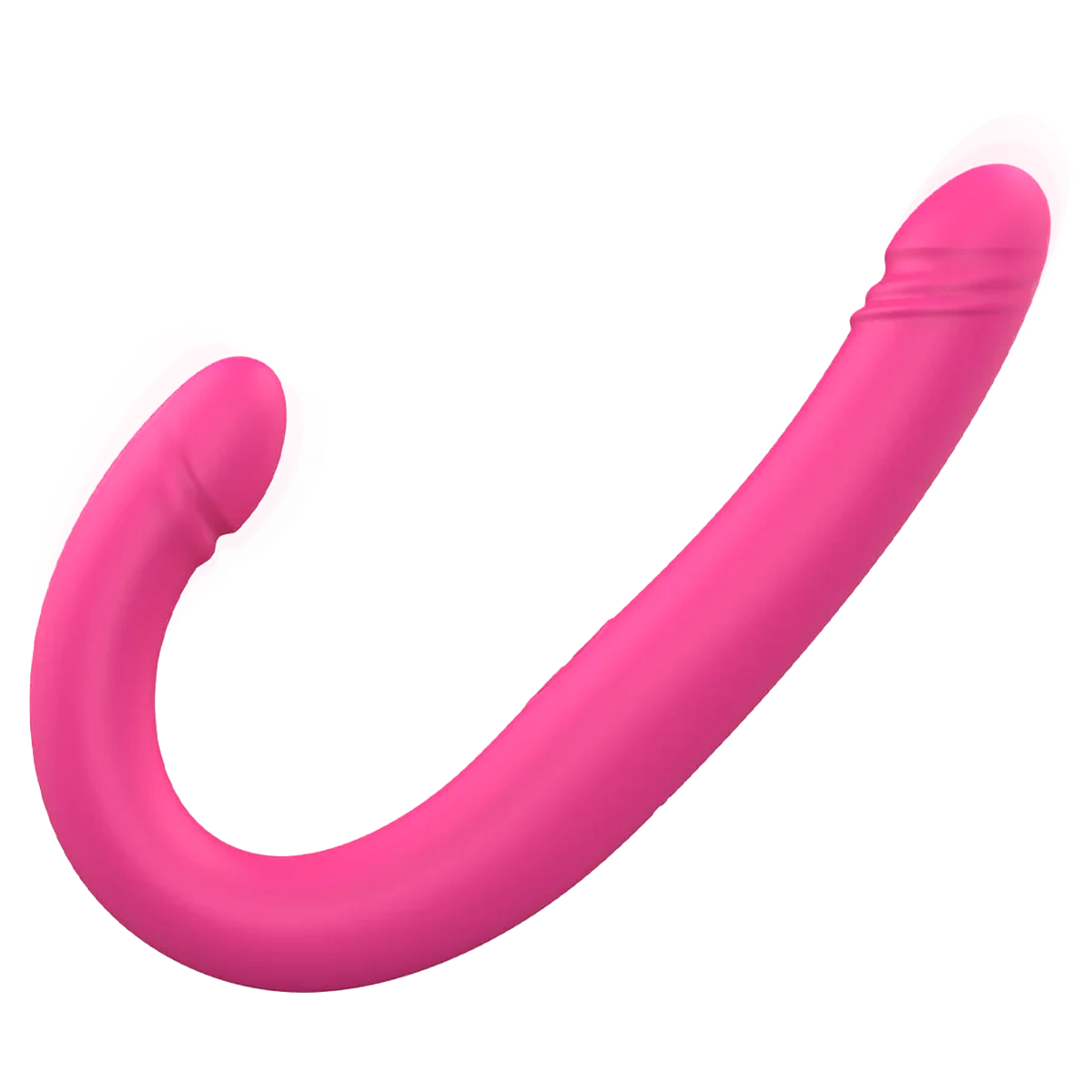 Why should I get a Double Dildo?
They're versatile & kinky! Most, but not all, double dildos have no batteries, and no buttons, meaning they are always ready for playtime. Put on a show for your partner, or share the love.

Imagine sharing the toy with a partner as a same-sex couple or heterosexual? Play and connect on a whole new level.
Is a Double Dildo Flexible?
Most double dildos are made from flexible materials that can bend for simultaneous anal and vaginal penetration (Perfect if you've looking for some ambitious solo play!). The flexibility is also great when you are sharing the toy. There are multiple positions you and your partner can find yourselves in.
Pro's & Benefits
Versatile for adventurous play
Very easy to use
Used for solo or partner playtime
Con's
Realistic Dildos
Feeling the Real Deal
What are Realistic Dildo's?
Firstly, These are waaaay more popular than you think! Many people love the look and feel of more realistic toys, and our range of realistic dildos certainly meets the standard! The material used for these toys is outstanding and of the highest quality - resulting in dildos that feel almost completely like human skin.
Quality is King
Because the material is so swish, realistic dildos can be more expensive than your other dildo types. However, bear in mind that you are paying for quality and when it comes to putting things into your body - quality is key.
How Realistic is it?
When it comes to the realism of these dildos, no details are left out. From the Length and curve of the shaft, the girth of the penis, some even have details of viens along the shaft, a pronouced swollen glan and some even have the testicals attached.
Pro's & Con's:
• Flexible yet Firm
• Some are Suction Cup Based
• Real-feel materials
• Easy to clean
• Can be slightly more expensive
• Less discreet
Pair your dildo with another toy to enjoy dual stimulation... Enjoy the best of both world and intense pleasure.
Strap-On Dildos
Adventures Await
A Strap-on compatible dildo can be used with a harness. These are known as Strap-on dildos.
The Dildo can either be attached to a belt or harness using a rubber silicone ring, which varies in size, or some Strap-on dildos can be slipped through the hole of the harness and kept in place during play.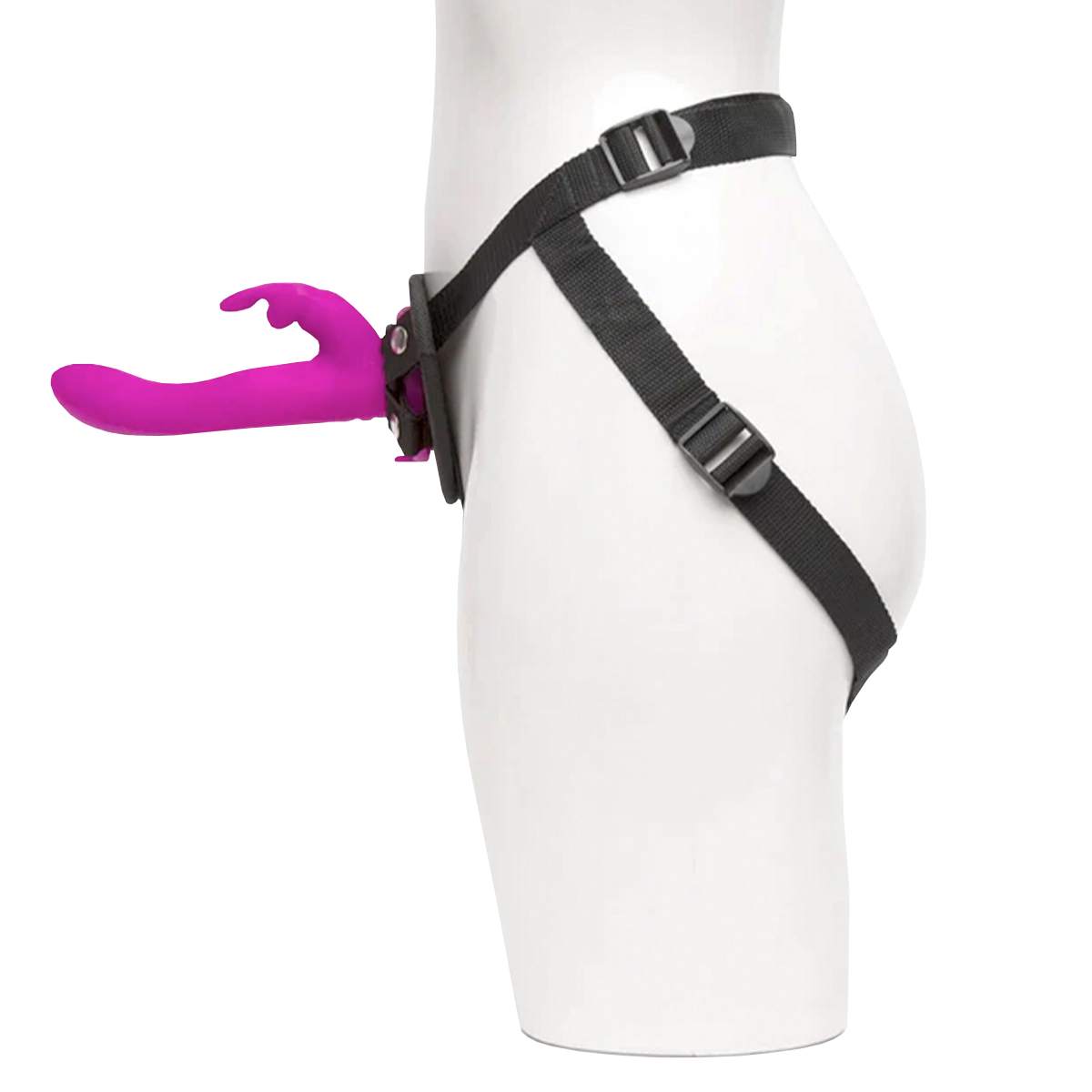 Why are they so popular?
Because they offer such erotic delights to anyone, many couples enjoy experimenting where they would like to receive anal sex. For the more adventurous heterosexual couples, some men are open to anal sex, whereby their female partner is in control. This is also known as Pegging.
For women in same-sex relationships, some strap-on dildos come with clitoral stimulators to make the experience even better for the female wearer.
Glass Dildos
Elegant & Erotic Pleasure
Ah, we do love glass dildos. These toys are made out of high-quality, long-lasting, durable glass – usually blown with gorgeous colour accents. Some of them are works of art. We'd like to put them on our mantelpiece.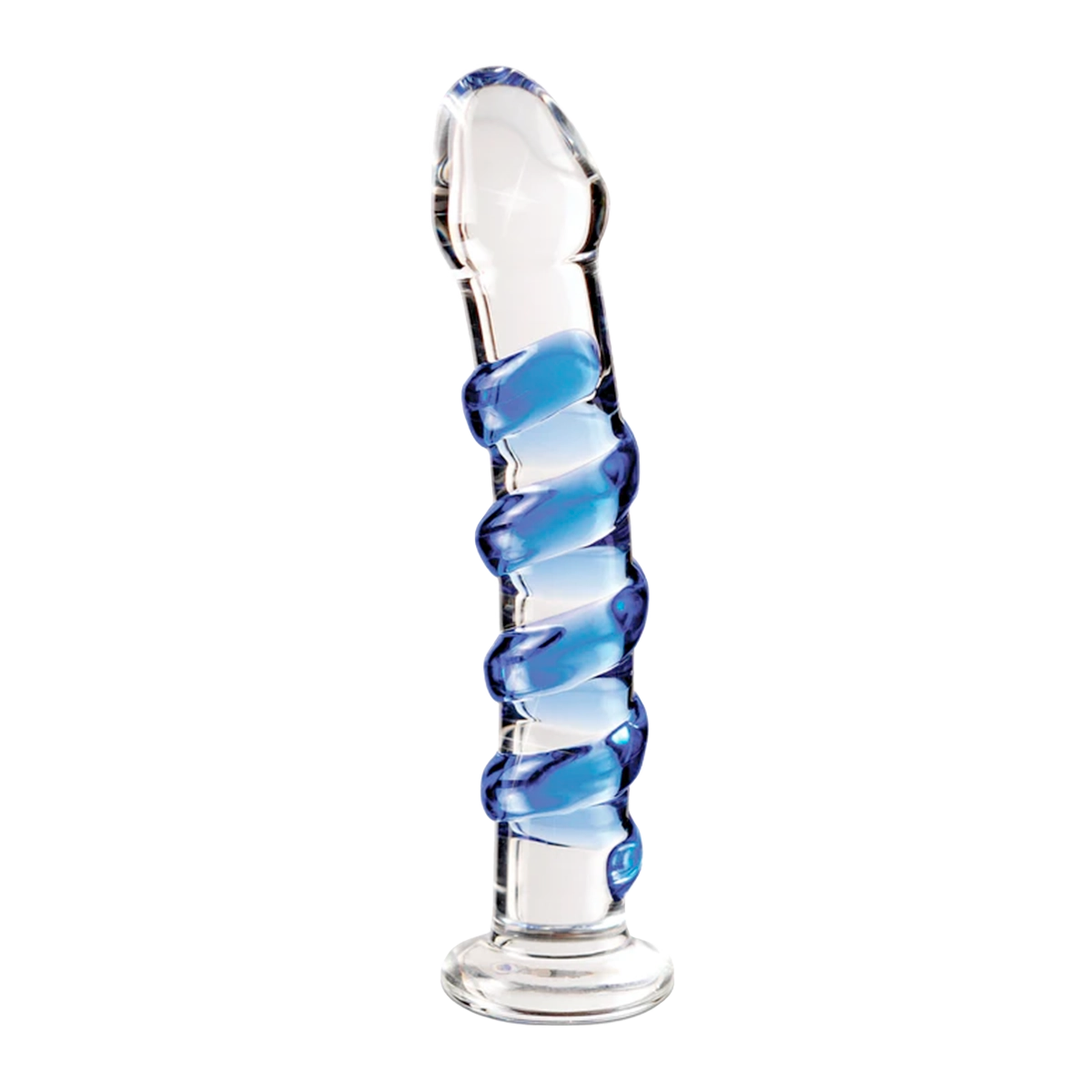 Why Glass Dildos?
The quality of a glass dildo is unparallel. They have the most creative designs with bumps and grooves along the shaft to create amazing stimulation during play. You can warm or cool your glass dildo, introducing a range of new sensations. And you can never use too much water-based lubricant with your glass dildo. The rigid design helps to enhance the intensity of orgasms.
Pro's & Benefits:
• Super hygienic
• Resistant to odour
• Easy to clean
Con's
• Good quality glass dildos can be more expensive
• Heavier than rubber & silicone dildos
• Should be handled more carefully than silicone, rubber & steel
Stainless Steel Dildos
Strong & Sexy
We love Stainless Steel Dildos because they feel so luxurious, and their weight adds to the sensual feeling of fullness during play. Not to mention the precision of stimulation the Stainless Steel Dildo can provide. Great for G-Spot, Anal or P-Spot Stimulation. The temperature play is limitless with these beauties.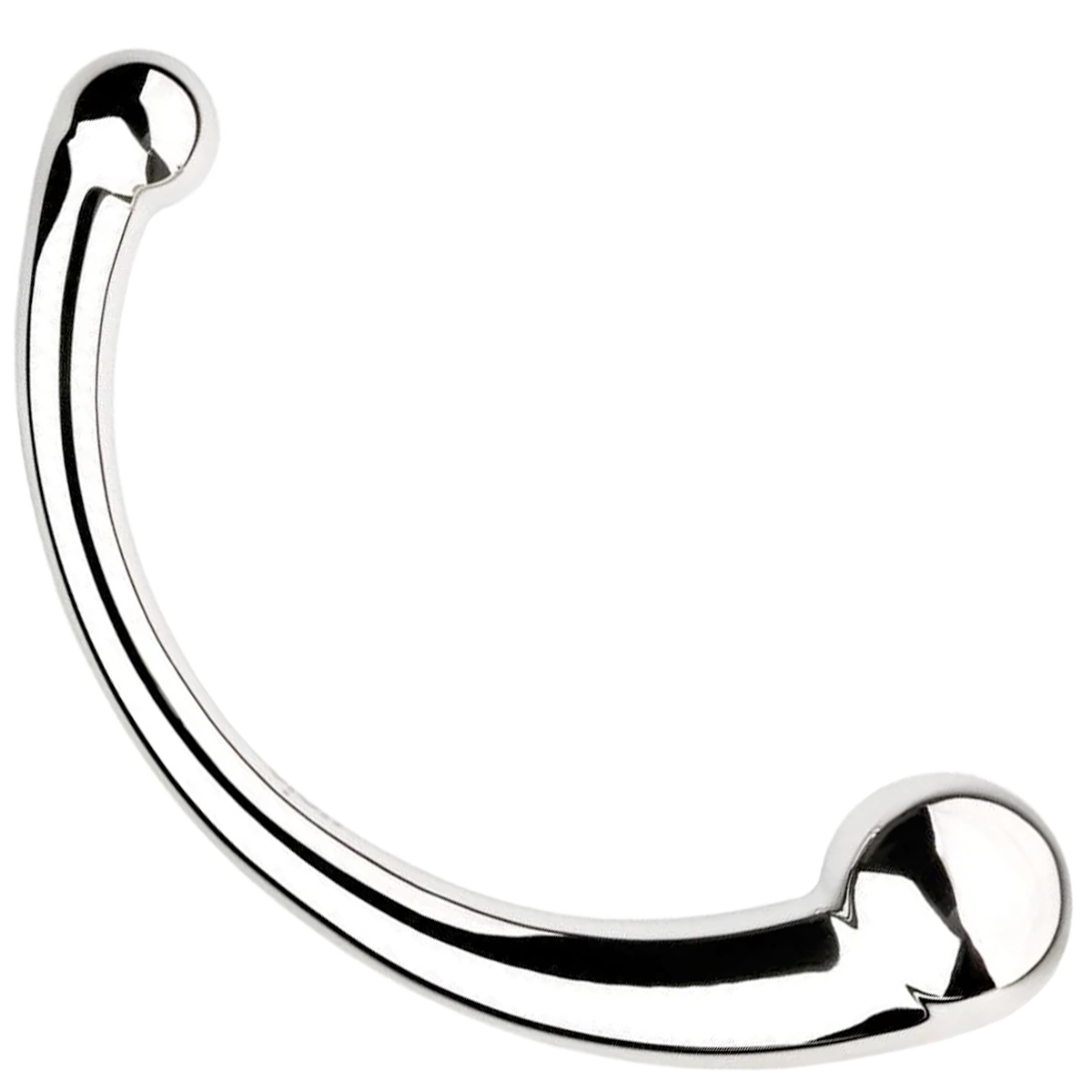 Who are they best for?
Anyone and everyone. Unlike glass dildos, you can heat your steel dildo to boiling or cool it far more! (not that we recommend this - Saftey first). Basically we are saying, the temperature range is much wider with Stainless Steel Dildo toys. They're also long lasting and hugely stylish - this is what luxury sex is all about.
Pros & Con's:
• Hygenic
• Non-Absorbent
• Easy to clean
• Wider Temperature range
• Compatible with all lubricants
• Good quality can be expensive
• Heavier than rubber/silicone sex toys
THE PERFECT PARTNER
For Your Dildo
THE 5 BEST THINGS TO TRY With Your Dildo
Dildos are deceivingly diverse little guys. You may think there's not much to it, but you would be wrong.
Here are 5 fun ways to amp up your dildo play.
The repetitive motion of thrusting in and out can feel plain. Try and mix it up with a rocking motion. Here's how: Insert your dildo to where it's feeling good, and begin rocking back and forth with your pelves. This feels particularly good if you focus the movement more towards the back wall of your vagina.
A Cervical Orgasm (or Cervix Orgasm) may sound a bit like sexual science-fiction, but luckily for us, it's a real thing. These incredibly intense orgasms occur when the penis or a dildo rubs against the cervix during deep penetration. The cervix specifically registers the sensation of pressure, so relax, take it slow, make sure you're sufficiently aroused and dive in.
Although women don't have a prostate like men, the anal tract is still full of sensitive nerve endings that feel great when stimulated. Make sure to use a dildo with a flared base and plenty of lube (anal lube is recommended or quality water-base). Take your time and ejoy the different sensations that come with anal play.
The G-spot (as we know) is a gloriously sensitive spot about 2 to 3 inches inside the vagina and is the focus of the Rotating Technique. Try inserting your dildo until you are in prime G-spot stimulation range. Slowly begin to rotate your dildo while keeping it at the same depth. This will gently massage your G-spot, providing you with tantilising tingles.
If you have a glass or steel dildo, you can add an extra exciting element to your play time with temperature play. Grab a bowl of hot or cold water and pop your dildo inside for a few minutes. The glass or steel will match the temperature of the water and give you a chillingly cool or deliciously warm toy that is perfect for regular use or a sensual body massage.
The last pro-tip is an important one - and it's about lube: for next-level pleasure, we recommend choosing a quality lubricant for toy play. 
Just make sure you're using toy-friendly lubricant - never use silicone-based lube with a silicone toy. Silicone degrades silicone, so you will inadvertently ruin your dildo. If your toy is silicone, choose a water-based lube instead. 
Have a look at our Buyer's Guide to Lubricant for more handy information!
WHAT'S THE DIFFERENCE
Between a Dildo and a vibrator?
| | | |
| --- | --- | --- |
| | Dildo | Vibrator |
| Look | Usually penis shaped | Egg, bullet, lipstick or pencil-shaped |
| Material | Silicone, rubber, latex, glass | Silicone usually |
| Function | For internal penetration | For clitoral and internal stimulation |
| Operated | Manual movement | Battery operated or electrical |
| Feeling | A fullness, similar to sex | Buzzing,throbbing, pulsating, vibrating |
| User | Male or female | Generally preferred by females |
| Sex type | Solo or couples | Solo or couples |