Our Guide to
Bondage & BDSM
We're here to help you on your Beginner's journey to Bondage Play.
 Beginner's Guide to Bondage & BDSM:
Starting Out Your Bondage Journey
Welcome to the exciting world of bondage! Embarking on this journey is a thrilling way to explore your desires and ignite sparks in your intimate life. Here at Matilda's, we strive to guide you through your exploration of bondage in a fun and safe manner.

Venturing into new territories of intimacy can be an exhilarating journey for any couple. But like any great expedition, it requires a guide to help you navigate, learn, and explore safely and enjoyably. This holds especially true when exploring the world of bondage play, an intimate practice that can bring you and your partner closer together and offer new dimensions of trust, communication, and pleasure.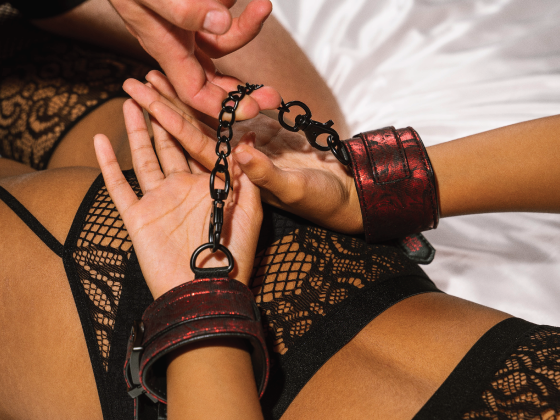 Let's Get You




Started!
In this beginner's guide, we aim to demystify bondage play and equip you with the knowledge and understanding you need to explore bondage with confidence. From choosing your first pieces of gear to understanding the importance of consent and safety, we'll guide you through the exciting and profound journey that is your introduction to bondage play. So, buckle up (or shall we say, strap in) and prepare to add a dash of adventure to your intimate experiences.
Bondage vs BDSM
What's the Difference?
Terms like "bondage" and "BDSM" often get tossed around and sometimes even used interchangeably. But, while they are related, they don't mean the same thing. Sure, they might seem like two peas in a pod, but don't be fooled. While these two are part of the same kinky family tree, they branch out into different territories.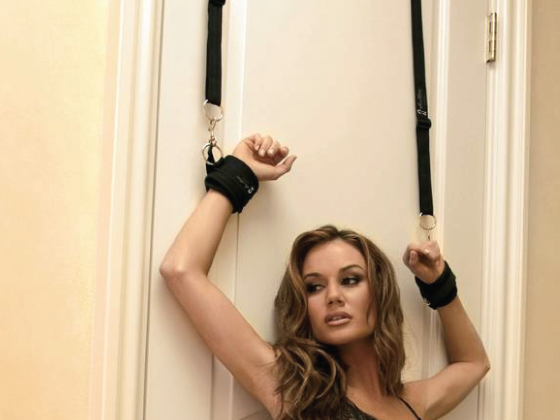 Bondage
Bondage is a type of sexual play that involves physically restraining a partner for erotic or aesthetic stimulation. The restriction can be done using a variety of objects like ropes, handcuffs, blindfolds, or more advanced bondage equipment.
BDSM
BDSM on the other hand, is an umbrella term for a variety of often erotic practices or roleplaying involving bondage, discipline, dominance and submission, and sadomasochism, to name a few. In a nutshell, bondage is one aspect of the larger BDSM framework. While all bondage is part of BDSM, not all BDSM involves bondage.
How to Introduce Bondage
Setting the Scene
Before diving into the action, setting the scene for your first bondage experience is crucial. It's about more than just having the right equipment at hand. It's about creating a safe and comfortable environment where you and your partner(s) feel respected and heard.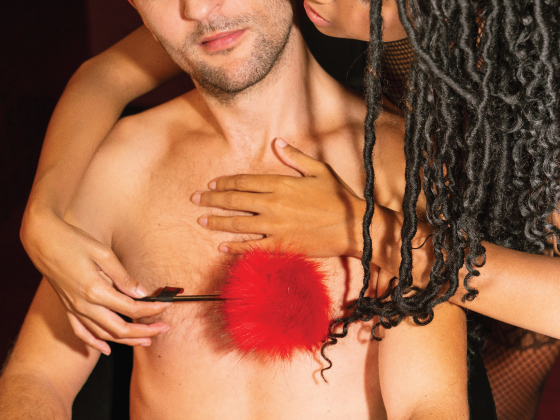 Communication
Communication is, without a doubt, the cornerstone of any form of intimate play, but it holds even more weight when exploring areas such as bondage. Establishing open lines of communication with your partner is your first step in this journey. Discuss your interests, limits, fears, and safe words – a word or signal that means stop immediately. Honesty and transparency here are paramount. Remember, this is a mutual exploration of pleasure and trust, and every step of the way should be agreed upon by both parties.
Education
As with anything new, understanding what you're getting into can greatly enhance the experience and ensure safety. This can involve reading articles, watching instructional videos, or even attending workshops. Don't forget to learn about different types of play, potential risks, and safety precautions. While bondage play can offer immense pleasure, it should always be practiced responsibly and safely. There is a multitude of resources available online, such as our bondage and BDSM article series, to guide you on this path of knowledge.
Basic Restraints
Your first experience with bondage should be more about the erotic tension and less about severe restriction. Therefore, beginners might want to start with softer materials like silk scarves or velcro-fastened restraints. These options are less intimidating, comfortable to wear, and easy to remove, providing an excellent introduction to the sensation of being restrained. There are plenty of options for simple and easily removable restraints, from the ever-popular handcuffs to rope, silk ties, or specially designed bondage tape. Whatever you choose, ensure it's comfortable and adjustable. Never use something that can tighten with struggle or that you can't release quickly if necessary.
Things to Try
You've set the scene and laid the foundation. Now it's time to discover new territories of pleasure and have a blast while at it. 
Bondage Gear Suggestions
Amp Up the Experience
Feeling a bit more confident, are we? Take your bondage game to the next level with our list of essential items. It's time to graduate your playful explorations from BDSM 101 to a masterclass in shared kinkiness.
Buckle Up: It's Time to Start Your
Bondage Journey
Bondage may sound a bit intimidating at first. But, it can be done beautifully. Strip away the misconceptions, and you'll find it's all about trust, consent, and a shared desire to explore unique sensual experiences.
Remember, at the heart of all bondage play are consent, communication, and mutual enjoyment. Always prioritize safety, respect each other's boundaries, and regularly check in with your partner to ensure a positive and pleasurable experience. Explore, experiment, and most importantly, enjoy your journey through the world of bondage with Matilda's.